---
From Pine Ridge To Preacher Pedophilia, Lupe Fiasco Aims To Incite With New Album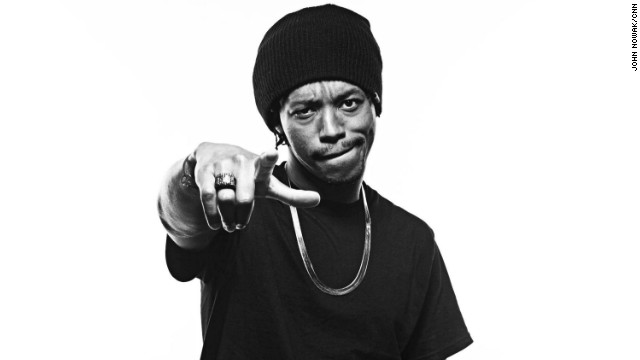 Waiting to clear security for his interview at CNN, Wasalu Jaco eschews small talk, instead fixing his eyes on a TV above the desk airing footage of Syrian rebels in Aleppo.
You get the feeling Jaco is genuinely interested, perhaps even moved, by the images being transmitted from the battle-ravaged city.
Jaco, that's the name on his security ID. He's better known as rapper Lupe Fiasco, though the 30-year-old Muslim in the black Vans beanie doesn't carry himself like a lot of hip-hop stars.
It's 97 degrees in Atlanta, but he passes on an offered bottle of water because it's Ramadan. Four people compose his entourage. His bling consists of a single herringbone chain and a Rolex. Dwayne Wayne-issue specs belie his swagger. He is about to chat with a reporter for more than half an hour without uttering a single curse word.
Not even a damn.
The Chicago-born rhymesmith is on a press junket to promote his fourth album, "Food and Liquor 2: The Great American Rap Album Pt. 1," due to drop next month. He's confident its release won't be as much hassle as his last album, "Lasers."
"We're September 25. I think we're solid in that date. I don't necessarily think there's going to be a need for an uproar," he said.
By uproar, he means fans circulating a petition demanding that Atlantic Records "stop playing around" and release "Lasers," his third effort. Hundreds of the 31,367 fans who signed the petition also converged on Atlantic's New York offices on October 15, 2010, aka "Fiasco Friday," which Lupe attended.
"They came down and protested in front of the building, had a grand ol' civil disobedient time. It was pretty cool," he said. "It's funky because the police made me leave the building. It was odd. It was like, 'Yo, I work here.' "
This time, "the plot," as Lupe calls it, is to release the album's first installment in September and the sequel in early 2013, with several singles hitting airwaves along the way.
Read how the first single caused beef between Lupe and producer Pete Rock
"It's meant to tell the great American experience, touch on my ideas, my very rough, very unfinished, unpolished thoughts and feelings about America: American history, American culture, American society, American beauty, American food. You'll see that laced throughout the album," he said.
If the first two joints, "Bitch Bad" and "Around My Way (Freedom Ain't Free)," are any barometer, the rapper's reputation for blistering social and political commentary will remain intact. No hos, weed and rims here, thank you.
Read the Full Story Here.